Trivia Night
Friday, Oct. 9th / 6:30 pm
Online via Zoom
Central Families only
FREE + Win Prizes!
Join the Central PTO for live team trivia in a Covid-safe environment — your own home! Chicago Trivia Guys will be hosting our Central families on Zoom (they use the Breakout Rooms function so that your team can deliberate separately).
Register now for your family to join in the fun!  You can even team up with up to 4 other Central families to create a team.
See below for FAQs.
Register
REGISTRATION CLOSED.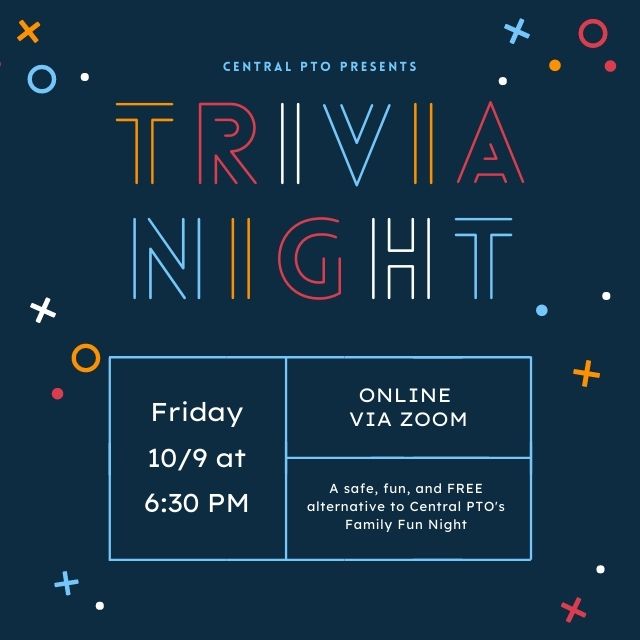 Is there a cost to participate?  There is NO cost for Central families to participate!  The event is being sponsored by Central PTO.
Who can participate?  The entire family can participate.  All questions are family-friendly.
How many families can create a team?  A team can consist of up to 5 families.  Your team will be placed in a Zoom breakout room when a question is answered to discuss.
Do I have to create or join a team?  You can also choose to participate as a single-family team or team-up with other Central families you know!
Can you help us create a team? No problem!  We can connect you with teammates.  Simply select the option "Team us up with another family" to be paired with other Central families.
What if we don't know our team name yet?  If you can't think of a name, we'll assign a name to your team before the event.  Sign up and let's have some fun!
What supplies do we need to play?  You will need an internet connection and computer or tablet to use in your home.  The Zoom link will be provided for those that sign up.  Make it a fun family night at home and order a pizza and play along!
How will my team communicate?  Your team, if working with multiple families, will be placed in a Zoom breakout room by our hosts "Chicago Trivia Guys" to discuss each question.  Each team can consist of 5 Zoom connections.
What kind of questions will be asked?  There will be general trivia questions asked…so no special knowledge required!

When do we need to sign up by?  Please sign up by 7:00pm on Wednesday, October 7th.