2023  Science  Fair  Thursday,  November  2nd!
Participating in the Science Fair is fun for everyone! To get started, register and enter your Project Name on the registration site. The deadline to register is Oct. 20th
IMPORTANT DATES: 
Registration Deadline: The registration deadline is Friday, Oct. 20th
Science Fair: Thursday, Nov. 2nd

6pm – Set Up
6:15pm – Science Fair Begins
IMPORTANT THINGS TO KNOW BEFORE YOU GET STARTED:
Participation in Central's non-competitive Science Fair is optional and open to all students (K-5).
Students can work independently (most common!) or team up with a Central sibling or student
Students, under the supervision of a parent or guardian, will conduct their own experiments at home using the 5 steps of the Scientific Method. More on that below!
Display boards will be provided to students who registered by Oct. 20th. See below for more information about displays.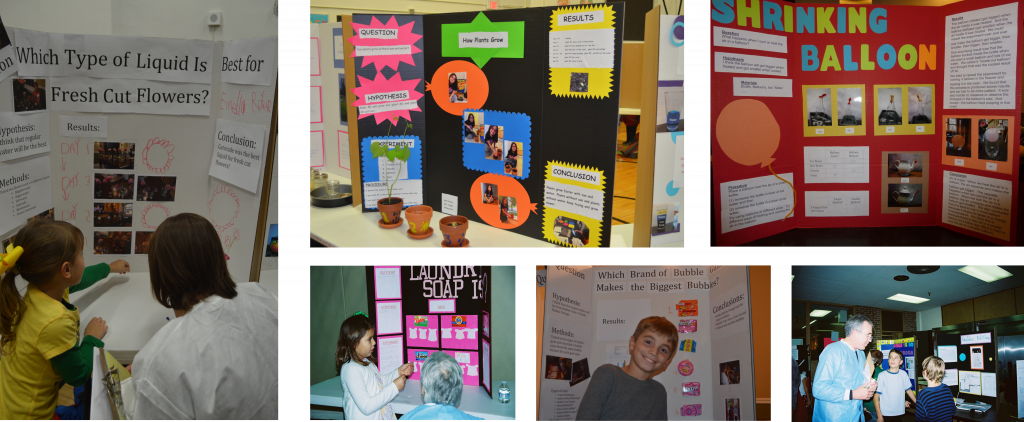 GETTING STARTED:
First thing to do is to learn some basics about different types of science projects. For example, sometimes a science project is a model, while other science projects are experiments. Models (or displays) show how something works, but they don't really test anything. Examples of models/displays are projects like "Types of Dinosaurs" or "Baking Soda & Vinegar Volcano."
Even though you can learn a lot from building a model or researching for a display, we recommend that you do an Experiment!!! Why? Well, they are fun, they are VERY interesting and most of all, they take you through the SCIENTIFIC METHOD, which is the real way scientists do research. You can tell you are doing an experiment if you are testing something several times and changing a variable to see what happens. Examples of experiments include "The Effect of Detergent on the Growth of Plants" or "What Type of Shoes Are Best for Playing Soccer." Just follow the instructions in this Planning Guide and you
will be a real scientist in no time!
This planning guide will:
Take you through the steps of the Scientific Method (everything you need to know to get through your experiment!)
Help you come up with your Science Fair topic.
Explain what you need to do to prepare your actual display for the Science Fair.
THE SCIENTIFIC METHOD: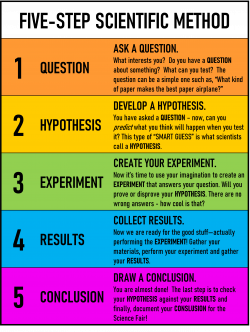 Get ready to have some fun young scientists! Follow the 5 simple steps below and you will have completed an experiment using the Scientific Method.
Use this Scientific Method Worksheet to record your progress through each step OR use your own paper that can be pasted to the board for your display. Your final display should have at least 5 sections corresponding to the 5 steps of the Scientific Method
Question
Hypothesis
Experiment
Results
Conclusion
Now it's your turn:
Create your Science Fair question. If it helps, try using one of the approaches above: "Effect Question", the "How does" Question" or the "Which/What" Question." If you need some extra help coming up with an idea, have an adult help you check out the online resources below, ask the librarian at the local library, or email your Science Fair Committee.
Once you've decided what your question will be, record it on a piece of paper and start thinking about a name for your presentation, which should be included when you register your project here. If you are still working on your Project Name, just enter "Scientist Still Thinking" in the title field.
Display Boards
Once you've completed the Scientific Method, you're ready to prepare your display board.
Display Boards will be provided to all Teams who registered by Oct. 29th.
RESOURCES:
Materials:
Online Resources:
Note to parents: these online resources are provided as a guide, but we encourage you to have your child use their own curiosity or interests as the motivation for the question.  Do not worry if the question or resulting experiment does not seem sophisticated enough. The best type of question for an elementary school Science Fair, even if it seems simple, is one for which your child is yearning to have the answer!
CONTACTS:
Have fun, be safe, and contact your Science Fair Committee if you have any questions!
Kate Geletka
Lauren Lendman
Jennifer Elkins